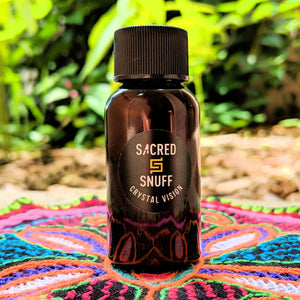 A special mix of rapés and other sacred ingredients. Strong, potent, and powerful.
It contains small amounts of powdered wilka seeds and chacruna leaves and is mixed with different sacred plants, trees, leaves and ashes.
Designed to open up the third-eye chakra for total clarity of mind. It clears your focus and vision in a grounded, balanced and uplifting way.
Cleanses the pineal gland and boosts visionary, creative, self-expressive, mental and psychic abilities.
A unique blend made by the Shamanic Snuff Team in Peru.